Must have downloads:
Refer to my downloads page to get these critical applications!

In this issue:

►Do you have a Dell Laptop? You had better read this!
►Have you heard of U3 Flash drives?
►Have you ever wondered what the difference between a PCL and PS printer driver is?
►How to Get a Human on the telephone
►What is a Podcast?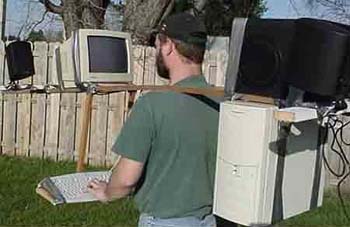 The world's first portable computer
When was the last time you had your computer cleaned?
Call for an appointment!
(805) 968-6366
McAfee's Stinger, downloadable virus removable tool
Dell laptop battery recall
Dell has just issued a recall for 4.1 Million of its laptop batteries! Apparently, they purchase most of their batteries from Sony Corporation, and Sony is the company at fault. If your laptop was made between April 1, 2004 and July 18,2006 then you should go to: https://www.dellbatteryprogram.com/. At the website, they will give you all the information you need to determine if your battery is affected. Good luck!
---
Are you backing up?
These days, a good backup is a must!
Windows Defender Beta 2
The U3 Initiative
Imagine carrying your favorite software, preferences, profiles and data on a device no bigger than a pack of gum. With a U3 smart drive, you can plug into any Windows 2000 or XP PC and work , play a game, message friends, send email, edit photos and more, all without worrying if applications are installed on the computer. Sounds pretty cool huh?
Obviously USB flash drives have been around for several years now. On Windows ME, Windows 2000 and Widows XP machines, you simply plug them into an available USB port and a new harddrive appears on your computer. You can now copy files from your computer to the flash drive and carry them with you.
Well, now there is a new twist... Some very clever people started wondering why you couldn't have programs run from your flash drive? You could go to a friends home, plug in the U3 enabled flash drive and start using your own web browser, email program, word processor, etc. No installation required! The files are completely separate from the host machine. To get started, all you need is a U3 enabled flash drive (they have "U3" printed right on the drive.) I think that you could copy the appropriate software onto any existing flash drive, but the new U3 drives are no more expensive than existing drives, so why bother? U3 is an open source initiative (that means absolutely FREE to you and me!). Lot's of programs are available for the U3 drives, some are free and some have a small fee (the creators of the programs can charge a fee if they wish.) The best part of this initiative is that when you plug your drive in, a little launch bar opens so that you can easily select from your installed programs.
Head on over to http://www.u3.com/ and have a look for yourself!
---
Is your computer getting slower?
Pop-Ups driving you crazy?
Is it just acting weird?
You may be infected with spyware. Try one of the programs to the left, and if that does not work...
Please call me!
---
Other Important Downloads:
Adobe Acrobat Reader 7.0
Have you ever wondered what the difference between a PCL and PS printer driver is?
Whenever you install a Laser or ColorLaser printer, you often see more than one printer driver has been installed. Many times there is a PCL or PS on the end of the driver. These stand for "Printer Control Language" (a Hewlett-Packard proprietary printer language) and PostScript (an Adobe proprietary printer language). If given the choice, you should usually choose the PCL version. But when printing Adobe documents, including Adobe Acrobat PDF files, you will notice much better performance by choosing the PS version of the driver. Give it a try.
---
How to get a human on the telephone
How many times have you called a business, only to discover that you end up pressing button after button on the telephone just trying to get a human on the other end? Even worse is when you have to talk to the voicemail system!
The people at Gethuman.com think they have an answer. They have assembled a database of most large businesses along with an actual phone number (take that eBay and Amazon!) and which buttons you should press to get directly to a human being. I've already used it myself.
Here is the link to the database itself: http://www.gethuman.com/us/ click on the "home" link to get to the main site and learn more.
Disclaimer: If you get voicemail at AS Consulting, don't try a button sequence for a live person. I'm not there!
---
If your web pages are not loading properly, you may need this download
What is a Podcast?
Q:
One of my internet radio shows just started calling itself a podcast. What's the difference?
A:
Internet radio shows will "air live" at a certain time. If you miss that time, the website may or may not have an archived version. Podcasts are available at any time through archives and are attached to an RSS feed to alert subscribers when a new episode is available, in the same way we have the Worldstart RSS feed and the Worldstart Newsletter Reader. As much as I hate the overworked phrase, podcasts really are the next phase in the evolution of internet talk and radio shows.
While we're talking about them, let's go over some basic info. Usually in .mp3 format, podcasts range from short 5 minute shows to 1.5 hour shows. Dialup folks may want to check the size of a podcast before starting the download. There are shows on just about any subject you could imagine, including music and movie reviews, various occupations and hobbies, religion and philosophy, politics, social groups, serial fiction, audio blogs, and just plain funny talk shows. Most of the directories have a search engine and some form of rating system to tell you if a podcast is work safe or family friendly.
Any computer or .mp3 player (sometimes available in our Cool Gadgets section) can play a podcast, not just iPods. Don't get some of the folks around here started on that topic! :) I've also heard them called webcasts, 'casts, and netcasts by people who want to stress that these shows were available for a year before iTunes (Apple's iPod music store/library) had a podcast directory.
Whatever term you prefer, the shows can be downloaded from the author's website or a podcast directory, then played on your computer or transferred to your .mp3 player. I plug my .mp3 player into my car using a standard cassette audio adapter (or an FM transmitter, also sometimes available in our Cool Gadgets section) and listen to photography- and writing-related shows on my way to and from work.
Most shows are free. To date, I haven't seen any that weren't, but it's only a matter of time before some start charging akin to a magazine subscription. The main directories* that I've used are: Podcast Alley, Odeo, Podcast Pickle, and iTunes Podcast Directory. My system has had various annoying little problems with the last two versions of iTunes that I downloaded, but that could just be my PC setup.
---
This item reprinted with permission from Computer Tips & Techniques, Weekly Edition (a free email newsletter available at
www.worldstart.com
), Copyright © 2005 WorldStart, Inc.
---
---
Dell & Gateway have announced that their standard warrantees are now 90 days Parts & Labor, it is expected that the other large companies will follow suit. If you want a longer warrantee, you'll have to pay for it.
AS Consulting's systems have always offered a standard 90 days labor and full one year on parts. Unlike the big boys, ASC has no plans to change our warrantee plans.
(Did I forget to mention that ASC's tech support has always been based in Goleta, CA., not Bangalore, India?) Feel free to call for a free quote on an ASC computer system.